I have just finished a new book that I would like to present to you: Digital Minimalism. Written by Cal Newport, an author who previously published Deep Work, the book is entirely dedicated to a method to decrease your connectivity.
What are the main ideas? What did I think about it? I tell you (almost) everything.
Starting point of Digital Minimalism
Who doesn't have the feeling of being addicted to social networks, news websites and other web browsing cycles?I was like that for a long time before I implemented some changes in my habits.Mastering connectivity has become almost impossible and this is quite normal because all the engineers on social networks like Facebook or Twitter, with their diplomas and great intelligence, have one goal: to get you hooked.
Every time you go to these sites and applications, you see many ads and every one of those views is billed. The bottom line is that your addiction is their profit, so they might as well tell you that they don't care whether it's good or bad for you.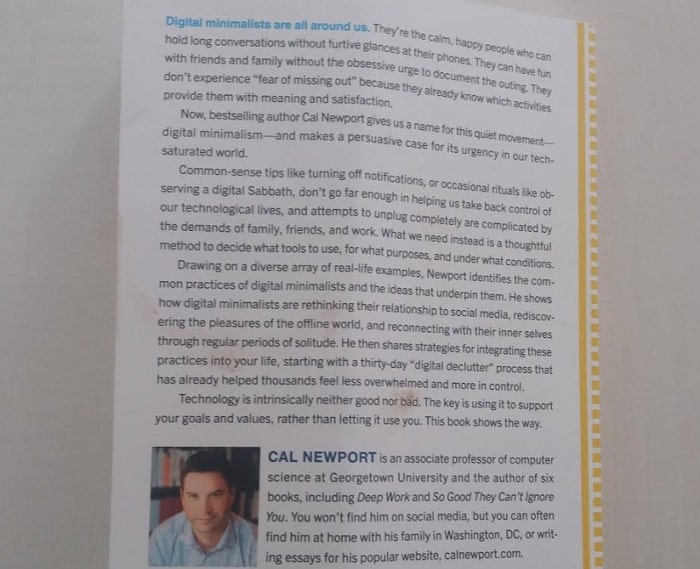 Clear observation, proven problems and the promise of a methodology to correct the situation!
The goals of Digital Minimalism
As in many areas, awareness remains the basis for change. The book focuses on harmful behaviours and their consequences. The numbers are frightening, with young people spending more than an hour a day on Facebook and almost five hours on social networks. But you and I both know that it's not just young people who are doing this…
When I visit family, I sometimes feel like I see robots that only know how to play Candy Crush on their tablet, check out the Facebook feed and get lost in useless TV news. This behaviour concerns both my 6-year-old niece and my 60-year-old father…
The second objective is to move on to weaning. A methodology is given to succeed in quitting with a few radical steps. In this part, Cal Newport explains how essential it is that this time be used wisely to avoid to think something is missing and discover much more rewarding things.
On a personal note, it's been a while since I stopped compulsive surfing and limited the time spent watching sports on TV. Since then, my reading pace has been impressive with 2 to 5 books read every week.
The final goal is to live in control of usage. Indeed, not everything is bad with social networks and they can even be useful for your work (example: if you keep a blog, sharing your articles increases the number of readings). It is then important to take the right habits to optimize your time and not fall into your shortcomings.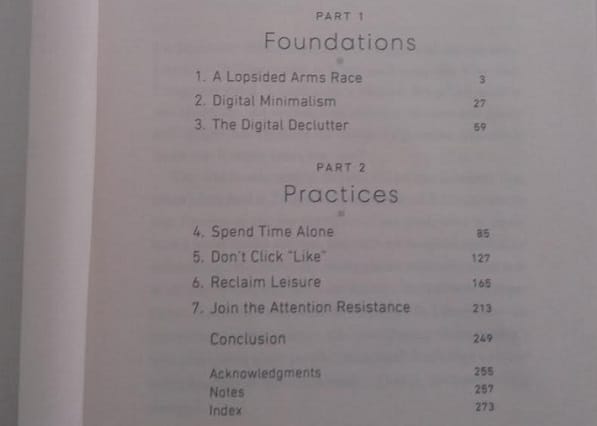 Here is the summary of the book, but it does not necessarily summarize the main ideas.
6 key ideas from the book "Digital Minimalism".
I'm not going to spoil all the content of the book, but here are 6 strong ideas from the book summarized in a few sentences.
Removing applications from the phone
Mobile is the main source of income for social networks. Why is that? Simply because you download their application and access it with a single click. You then do it dozens or even hundreds of times a day without necessarily realizing it.Removing their applications forces you to really decide to access them via the browser and therefore reduces your visits.
Planning schedules
Cal Newport's a scheduling nut. He plans everything, including his hobbies. He recommends you do the same for your connectivity. For example, you could allow connections to your "leisure" websites and applications for two hours every Sunday.
Having an old smartphone
At the time of the Nokia 3310, no one was connecting to the Internet via the phone, and yet we were just as happy, if not happier, as studies on the subject show. You should get back to the original use of this accessory.
I often think about this advice, but never did because I need an application like Waze too much to avoid traffic jams… But, having a second "old school" phone seems to me a good compromise. The recent one stays switched off as soon as you are at home.
Delete social networks
An even more radical measure that he submits several times in his book, removing social networks. It's not far-crazy. I did it with Twitter and I don't regret it.
By doing so, you'll only keep a small circle of close friends with whom you'll have more in-depth contact (e.g. : a monthly phone call of one hour, rather than one "like" on each of his Facebook post).
Learning to be bored
Here is a key concept in life that is repeated in this book: boredom is necessary. Our connectivity constantly occupies our brain with empty and useless things. As the book reminds us, Digital Minimalism seeks to reconnect with boredom to make it a positive and relaxing activity.Studies have shown that these periods of quietness are very helpful in categorizing the information in your mind and can lead to great ideas.
Rediscover a taste for manual work
Fewer connections, more manual activities! Although the examples given by Cal Newport are sometimes too long and repetitive, they promote a return to everyday tasks that we no longer do.Cutting wood, changing a faucet yourself, but also activities such as playing the guitar, painting are more rewarding and generate less stress.
My opinion about Digital Minimalism
The starting point is well documented. Relevant information is given on the actions taken by the web giants to make us addicted.The results of the studies are also decisive in motivating a change in behaviour. Indeed, there is no longer any doubt that connectivity is creating a generation of stressors who feel bad about themselves.
The many examples will often remind you of your everyday behaviour, which is always effective in creating a trigger.Contrary to other books, I appreciate that the author does not only make a statement, but suggests concrete measures that are easy to implement.
But it is still a book and the limits are there: you have to act in order to have change. The presentation of the measures is not the most convincing and I doubt that many people will revolutionize the use of the smartphone with this reading. The same book by Ogilvy would have led to more conversions! A previous awareness seems necessary to me.
Many of the people quoted remind me of posts on Linkedin or Medium blogs with great tips such as "I have revolutionized my use of social networks, I only subscribe to a few Instagram accounts, use Twitter for work and limit my number of friends on Facebook".It's a good thing we didn't have a french revolution like that in 1789, because we would always have a king to govern us… Make real changes!
For my part, it's simple, when I decided to wean myself off, I quit Twitter, uninstalled my phone applications, set a maximum of 10 minutes of use of Facebook and other "harmful" websites per day via a Chrome application, got into the habit of turning the sound back on my phone to hear any emergency calls and to leave it every night away (on the living room table).
Finally, if the author has a pleasant writing style, the words are said, said again, and said again. It was often difficult for me to get back into the book when I started a new session of reading…
Summary of my opinion
Assets
Interesting facts about the giants of the web
Instructive study results
Concrete measures to implement
Numerous examples
Weaknesses
Frequent repetitions
Some examples are a bit ridiculous and too long
Perhaps not enough to convince without prior awareness…
Conclusion:
Becoming Digital Minimalist seems to me mandatory. This book tells you why, gives you examples and a method to become one.If the book suffers from repetition and a few interlocutors made in "Medium blog", the whole thing is worth reading.