Having a good internal network on its websites is important for the understanding of your website by search engines and the navigation of Internet users. Most website editors know this, yet few make relevant internal links in their articles.
Why is this? Because it is time-consuming!When you have a website with 100 or more articles, searching for relevant internal links to old articles or new content takes a lot of time.
Fortunately, a WordPress extension is here to help: Link Whisper. I took a license for 10 sites in November and I don't regret my purchase. I've been testing Link Whisper for 3 months now and can provide you a detailed review.
But rather than taking my word for it, let's discover the tool, its features, advantages and limitations.
What is Linkwhisper?
As presented by its creator on the tool's website, LinkWhisper (you can sometimes find it attached or sometimes written like this "Link Whisper"), this WordPress extension allows you to build automatic or manual intelligent internal links easily.
More concretely, the extension suggests internal links between articles.As you write, Link Whisper analyzes the content and suggests relevant internal links directly in your WordPress editor.
Depending on the topic, this can be as few as one link or as many as dozens. You can then choose with one click whether or not to add the link. In fact, despite the automatic nature of the tool, you keep control and therefore completely master your internal links.
I'll stop here, because I present you in the second part the main features of the tool.
Who is the creator of Link Whisper?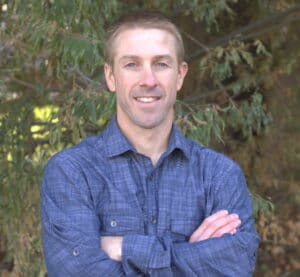 The person behind Link Whisper is Spencer Haws. He is anything but a neophyte in the web universe. He runs the famous blog Nichepursuits.com and created (and then resold) Long Tail Pro, a popular keyword search tool in the English-speaking market.
As he said in one of his latest blog posts, Link Whisper, launched in 2019, is now one of his priorities. He has exploded his sales forecast and plans to resell some of his niche businesses to focus more on Link Whisper.
This is good news for you and me, because it means that improvements and new features will soon be coming to Link Whisper!
What is the price of Link Whisper?
At the time of writing, there are three Link Whisper rates:
$77 for 1 single license (the extension can be add on a single site)
$117 for 3 licenses
$167 for 10 licenses.
As I have a large network of sites, I took the 10-license package directly and will take over a second one at the end of the quarter.But, be aware that all the features of the tool are available regardless of the license, it's only a price differentiation based on the number of sites you install Link Whisper on.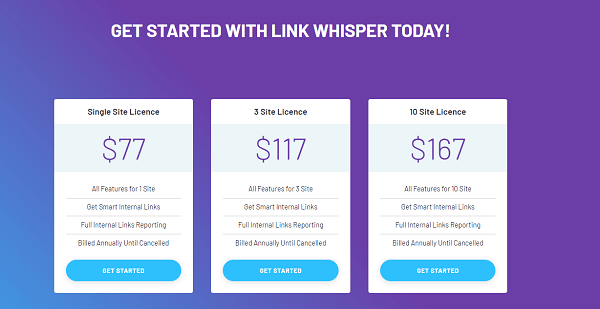 Here are the different Link Whisper prices.
Does Link Whisper work with a a website using another language?
Yes, that's right. I have installed the extension on French sites and it works very well.Link Whisper is compatible with the following languages: English, French, Portuguese, German, Dutch, Polish, Russian, Danish and Italian.Other languages should be coming soon.
Is Link Whisper only available with WordPress?
Link Whisper is a WordPress extension. However, I saw that there was a Shopify version. I haven't tested it, so I don't know if it works as well as on WP.
I also point out that if you uninstall the extension, your created links remain. They are not in the database of the extension, but in the database of your articles.
On which websites should Link Whisper be placed?
All the websites!Indeed, you can put Link Whisper on a small niche website of about ten pages or on a big blog of thousands of pages.
Personally, I find that the tool is ideal on large thematic websites of several tens or hundreds of pages, on which internet links become difficult because of the volume of articles.
My best results can be seen on a website dedicated to dogs of 400 articles, a cooking website of 150 pages and a travel website of 200 articles.
On small websites, it's still easy and fast to do the links by hand and thus, to save the price of a license.
On the multi-themed websites, many suggestions are naturally made to articles on different subjects from your content. You therefore lose relevance for the reader and for Google. I've seen it on women and men's blogs with dozens of articles that deal with a little bit of everything.
What are the features of Link Whisper?
The list of features I mention is far from being exhaustive, but here are the ones I use the most.
Make an inventory of your current internal links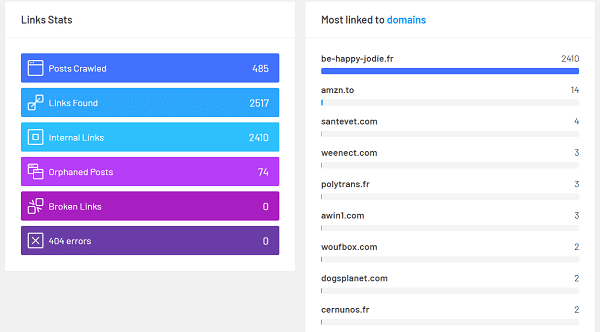 The first tab gives you global information about the linking of your websites.
Before working, take a look of your current network. It's very simple with the Link Whisper extension… and it's very complete!
At a glance, you see useful information such as the percentage of internal and external links, the domains to which you make external links, but also your orphan pages (which do not receive any internal links), links in error…
In another tab " Links Report ", you enter more details. For each page, a table shows you :
The number of internal links pointing to your page
The number of internal links on the page that point to another pages
The number of external links.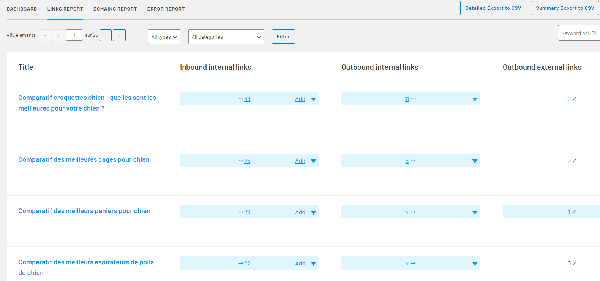 The Link Report, an overview of all your content.
You can filter, sort, export this data. This work is the basis when you install on WordPress Link Whisper. Sometimes you will find that a page targeting an important keyword receives very few internal links, which is an error and a clear lack of optimization.
Other times, it's the other way around, a page that is not very important seems to be a key content in your website.
The suggestion of internal links to other articles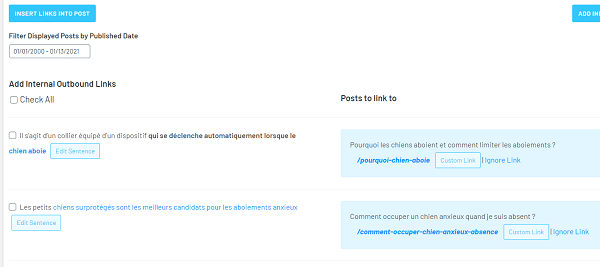 Creating your first internal links is more than quick.
When you write your content on WordPress, save it and go to the bottom of the page. Link Whisper will then suggest internal links to make in your article to improve your SEO.To add them, simply check the checkboxes of the relevant links and click "Insert Links into Post".It is possible to :
Modify the anchor length (put more or less words)
Modify the text. In this case, with one click, you modify the content of the other article without having to go to it. This is very handy to control your anchors.
Choose to link to another page than the one proposed.
At any time, you can go back to an old article to add new internal links. The Link Whisper frame is always present below your WordPress text editor.
Create internal links to an important page easily
On my website dedicated to dogs, I have a page on dog beds which is a key content. In one minute, I was able to create 25 relevant internal links to this page.
The quickest option is to go to the Links Report tab, search for the relevant page and click on "Add". The tool then scans the content and automatically suggests a list of possible internal links. In most cases, the relevance is there.
But you can go even further in customizing your searches by using the "Search by keyword" function. For example, if I type "dog bed", Link Whisper will show me all the articles and pages that contain this keyword and I can then in one click add all the links on this anchor or select only a few.Rarely have I seen such a practical way to make a quality linking!
In addition, to avoid making the same link anchor each time, you can take the text from the table by modifying the anchors to make variants such as "small dog bed", "basket made for dogs", "wicker basket for dogs"… This way, your internal mesh is totally optimized and looks more natural.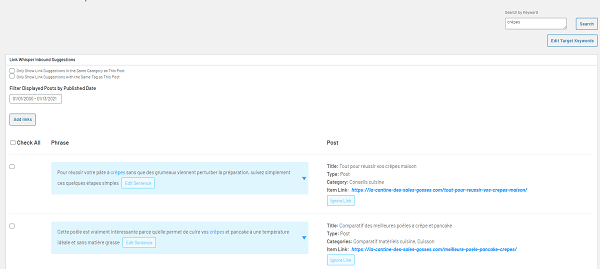 On this website, by typing the word "crepes" (it means "pancakes" in french), I get all the contents having this keyword and I can create internal links in one click.
Creation of automatic links on Link Whisper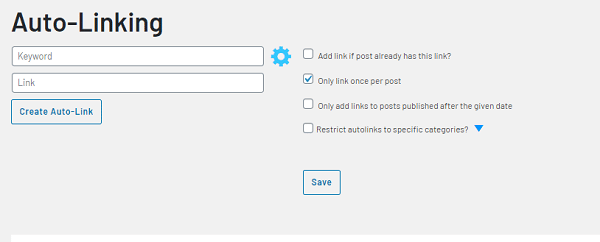 If you wish to automate your future links, fill in these two fields.
I do not practice automatic linking on my website, but I have several colleagues who do. If this is what you want, Link Whisper makes it possible and, above all, greatly facilitates it.
To do so, just go to the "auto-linking" section of the WordPress extension. You specify the keyword you want to link to and the URL of the link. Then click "Create Auto-Link" and you're done.
Simple, isn't it? You can add a few options, such as not creating the link on a page that already contains the link, only creating the link on content in the same category, or only on recently published content…
Please note that this auto-linking can be done on old articles and even more interesting, on the next articles. Thus, I can set up that all my next contents having the keyword "dog basket" will link to my key page.
These 4 features will surely make you salivate. They are hours and hours saved on your internal linking. 
It's a real boost for your SEO. You create thematic sections between your articles in a few clicks and help Google to better understand the structure of your website. When Google understands and appreciates a website, it rewards it by giving it better positions on the results pages.
It is difficult to correlate an increase in your positions with a single act. But coincidence or not, all the websites on which I have put and configured Link Whisper have experienced an improvement in positions on important keywords between 30 and 60 days after its installation.
It is also necessary to use all the options of Link Whisper to increase its efficiency. As another example, you can exclude pages and links.
Avis Link Whisper: do I recommend the extension?
To tell the truth, I bought the licenses expecting less good results… A colleague who uses it in auto-linking found that the extension lacked relevance in French.
However, I used it on websites with more detailed topics than his and it makes a big difference. Moreover, I think that a minimum of manual work such as choosing the anchors and reworking a few passages considerably improves the relevance.
On my thematic websites, it took me about 1h30 to manually link 200 pages. For the next content creations, less than a minute will be enough to properly include the new content in the structure of my internal meshing.
On my website about dogs, as soon as I mentioned my dog's first name (and this happens on most articles since it is often feedbacks), Link Whisper proposed an internal link to my "About" page.
While it is useful for my readers and advertisers, it has no SEO purpose and I don't want it to get a lot of "juice". I'm not interested in these links, I just had to click on "Ignore Link" and the extension stopped offering me this link.
With the 10 websites license, you pay $16.70/website to take care of all the internal linking. It's a piece of cake. Difficult to do better in terms of profitability?
If you are interested, I invite you to go to Link Whisper's official website