I will spare you an endless debate on the usefulness and legitimacy of buying or not buying links to increase the popularity of your website.Let's imagine that, like the vast majority of websites that rank well on Google, you do.
Where should you do your research? Which netlinking platforms offer the best opportunities on the French market?
What kind of advertisers are you?
I see a lot of backlinks services rankings, but there is never a distinction between needs.
My rankings are for low and medium netlinking budgets. If you work on a big e-commerce with a budget of 20K€ monthly and want links on huge websites, ignore my article because I have never bought this type of linkI.
In agency or on my own, I bought backlinks between 30 and 200€. My comparison of backlinks services is based on this experience.
1. Getfluence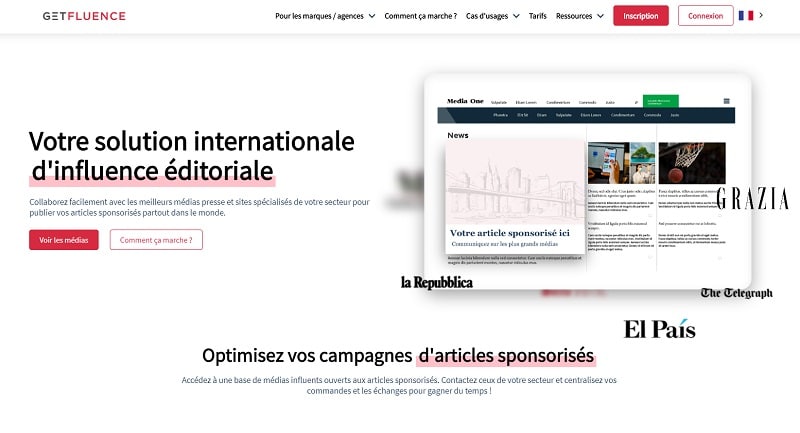 Getfluence specializes in "premium" websites. As a publisher, if you propose a website with little traffic or which does not make professional, it is refused and does not even enter in their catalogue.
The Getfluence dashboard is very easy to use and you can easily find the themes and metrics that interest you via the filters.The support is super reactive when needed.
Among the proposed websites, there are a few gems to discover. If you are looking for qualitative netlinking, you should find interesting opportunities.
On the other hand, you will quickly get out of the budget indicated in my introduction (200€). The rates are high and some offers are even completely off-market (but, don't forget that it's the publishers and not the platform that set the prices).
You have the freedom to do your research alone and see the domain names revealed. But, if you have not made a deposit beforehand, you are limited to a few searches only.The plateform has an English version.
Advantages
(Almost) all websites are of high quality.
Autonomous choice of websites
Ergonomic platform
Cons
High rates
Limited catalog
2. Semjuice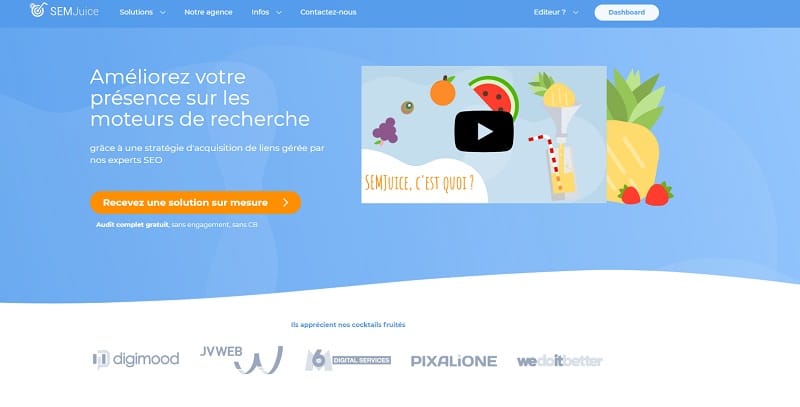 I still remember when Semjuice came on the market. The most critical voices were wondering what this new player was doing in a market that seemed saturated. A few years later, Semjuice is doing well and a lot of other platforms have come successfully since then!I often used Semjuice when I worked in an agency.
You don't control the catalogue and don't choose the domain names on which your article will be published. Now that I'm working as a freelance publisher, this is prohibitive, but as an agency, the simplicity of the process helps to do it quickly and well.
You choose the price of the link. Obviously, the higher the price, the more attractive the website is. Then, everything is managed from A to Z until publication.
An assistance option is even available for a true follow-up of your netlinking campaigns at the strategic level. I didn't test it, so I can't judge it.The quality/price ratio is very correct, even if some backlinks are overestimated by the algorithm. You can choose between 500 and 1000 word articles. I love this option because with a 1000 words article, you have more chances to have a quality content that ranks itself.
In any case, if you want a campaign managed entirely by the platform, it is with them that I advise you to spend your budget.
The plateform does not have an English version.
Advantages
Very complete catalogue
Possibility of delegating the entire management of the campaign
Choice of 500 or 1000 word articles
Cons
No choice of publication website
Some websites overestimated by the algorithm
3. Rocketlinks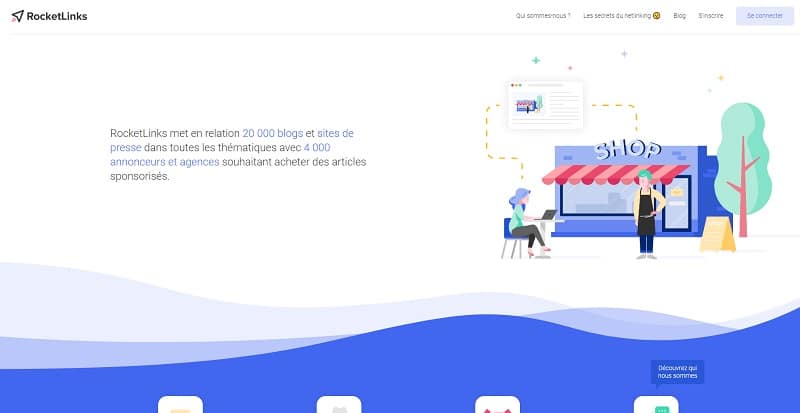 Rocketlinks is probably the biggest player in backlink sales. The company boasts of being able to publish on more than 20,000 websites.
Rocketlinks does not own the websites. So you don't publish on a proprietary network, but on the sites of publishers who have registered their websites on the platform. It is always preferable to vary your external links as much as possible to avoid a penalty from Google.
I appreciate the simplicity of the platform and the reactivity of the customer service. The very large choice of sites is obviously the main strength of Rocketlinks.
The prices are also very varied. You have to take the time to sort through the websites to find the best quality/price ratio.
Metrics are indicated and filterable. But don't always believe them without checking. There are sometimes outdated statistics that can turn a good deal into a bad one, like an interesting opportunity into a golden deal.
If you can ask Rocketlinks for assistance in choosing between the websites, I prefer to do it alone.I really appreciate the freedom of the link type. It's one of the few services to offer links in new articles, existing articles, on the homepage, in sidebar…
I rarely had problems with Rocketlinks and a solution was always proposed to me when it was the case.
However, I was disappointed to learn recently that some people were successfully selling links to websites they don't own. Rocketlinks seems to have lapses in ownership verification techniques.
Another small issue is that the filters and results displays need to be clearer and more complete.
The plateform does not have an English version.
Advantages
France's biggest player in the sale of backlinks
Wide catalogue
Autonomous choice of websites
Several types of links are possible
Wide variety of rates
Cons
Metrics displayed not always up to date
Failure to verify the ownership of websites
Limiting the number of daily searches
4. Soumettre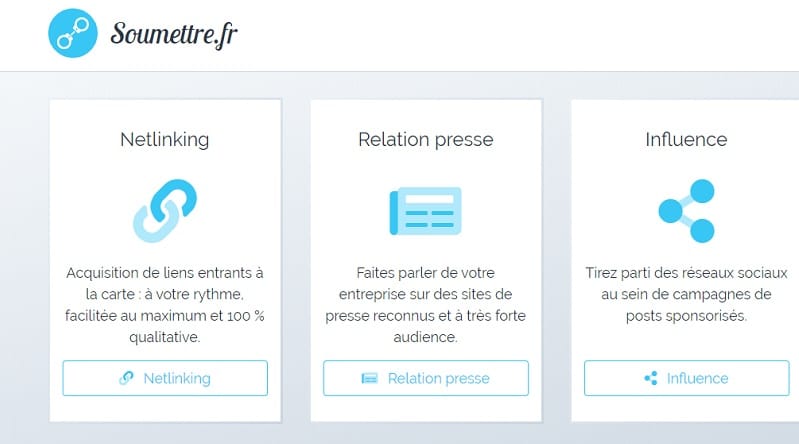 Soumettre revolutionized netlinking in France. I arrived in the world of SEO shortly before its launch and I could see the positive reaction I received when it arrived.
In a few clicks, you can order links on Soumettre. You just have to choose the price and the number of backlinks you want. For agencies, the method is very convenient.
Since Soumettre arrived early, communicates well, thecatalogue is very significant because many publishers have put their websites there.
As a rigorous SEO, however, I have a list of drawbacks. In particular, there is a big price gap (which was even worse before) with "Bronze" at 30€, "Silver" at 38€ and "Medium" … at 120€! Intermediate prices would not be too much.
Moreover, you have no control over the anchor, unless you pay a +30% extra fee. The text is usually 350 words long, which is still quite short, and for 200 more words, you pay 20€ more. The rate increases quickly if you are looking for the best quality.
Finally, in my SEO strategy, I like to place the majority of my backlinks on websites in the same topic as me. However, on low prices, Soumettre favors generalist websites with its algorithm.Two flaws to these criticisms.
The first one is the number of big media available for the purchase of backlinks. As I said before, I never managed budgets where links were bought for X XXX€, but Soumettre has e large choice among the big press websites.
As I said before, I never managed budgets where links were bought for X XXX€, but Soumettre has a lerge choice among the big press websites.
Then, more recently, Soumettre has created an "open" catalogue for its best customers. If you are one of them, you can see the domains before buying a link on it. A system that I highly recommend!The "classic" version of Soumettre can be useful to quickly buy a large quantity of backlinks by delegating everything.
It's convenient for an agency or a publisher who wants links for a large network of websites.But, personally, I prefer to do otherwise.
The plateform does not have an English version.
Advantages
Large catalogue of website
Large choice on the Press websites
Easy to use, quick purchases
Cons
Missing some intermediate price levels
Paid options such as anchor selection
Generalist websites too preferred by the algorithm
5. Ereferer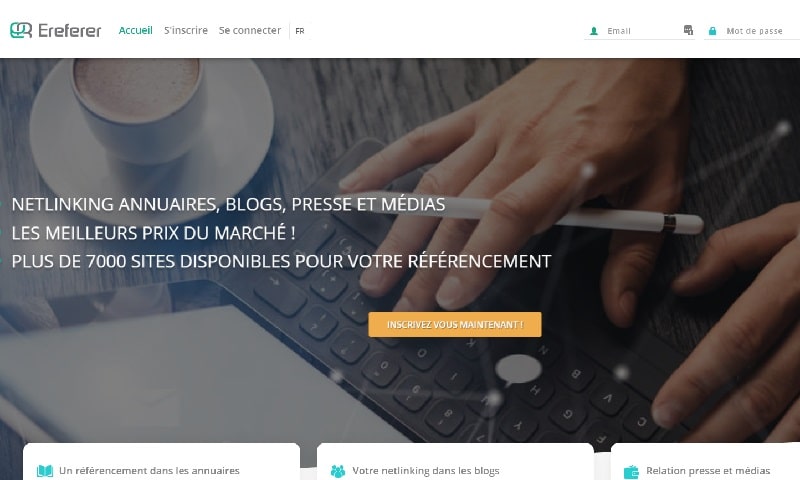 At the beginning, Ereferer arrived with a directory service. You bought links on directories at a low price. Then, with the growing success of the sale of sponsored articles, the platform began to sell/exchange articles.
For several months/years, Ereferer was specialized in backlinks at low prices.
Even today there are still some prices that are very low compared to the previous platforms, even if they are less numerous than before.
The big change happened recently since Emmanuel Higel, the founder of the service, incorporated a lot of important media like BFMTV, Ouest France, Sud Ouest …
For all these backlinks, it is specified if the link will be nofollow/dofollow, included with "a partner mention" or not, limited or not in time
.The platform takes a low commission on the sales of "standard" articles. I don't know if the commission is higher with big media.
Although still imperfect, the sorting function has progressed a lot and you quickly find websites that interest you. Depending on what has been chosen by the publisher, you can either send your article, pay for an article written by the publisher, pay for an article written by Ereferer.
There are still some big disadvantages compared to the services previously mentioned. The first, and not the least, is that the publisher can sometimes refuse or not respond to your request.
But if you pay for a 1000-word article on a suitable subject for a blog and the editor finally refuses it, that's a shame! This happened to me with a 1600 words content that was complicated to reuse, because it was very niched…
After this article was published, Emmanuel contacted me to say that he would soon change this by reimbursing the cost of the rejected articles.
There is also no verification on the ownership of the websites. So there are some smart guys who have author access on websites not belonging to them, who sell backlinks on Ereferer. If the owner realizes it, you will surely have your article and/or link removed …
Ereferer is therefore changing from an "lowcost" netlinking to a much more complete catalogue with a growing premium part.
If there are still some weaknesses, I still keep it as an interesting resource to find French backlinks.
The plateform has an English version.
Advantages
Low prices
Low commissions
Cons
Possible refusal of publication despite payment for the writing
The websites are not necessarily submitted by the owner
6. Dealer de temps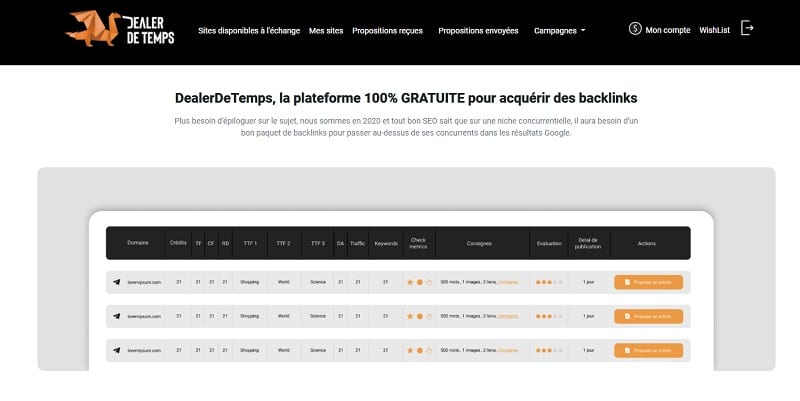 Very recently, Dealer de Temps offers like Ereferer (see right before) the choice between exchanging and selling articles.
If you are a publisher, you can publish articles on your websites to collect credits that you then use to get backlinks. You can also buy credits with real money.
The catalogue is still small, but as the website has just been launched, no doubt it will grow.The first positive point is the presence of a few big sites for low prices compared to their quality. But be careful, don't compare a Press link bought on Dealer de Temps to a person with an author account (example : a blogger) to a link paid much more expensively, but directly from the newspaper.
The website is easy to use, especially with the management of the Wishlist and the creation of campaigns. The founder often brings new features.The prices really depend on the publisher who add the site. Some are very cheap compared to the quality, while others are not very interesting.
As no verification of ownership is done, it is possible to propose websites on which a person has a simple access. However, a link add via an author account can quickly be deleted if the owner wants it …
It also happens quite often that the request for publication is not answered. You lose time or even money with a custom written article for a website that doesn't publish it after all. The customer service seems to be particularly honest. I had some credits refunded because a publisher had resold the website and removed my article. I didn't have to make any request to the support.
When he noticed it, he refunded me immediately.With a business model similar to Ereferer, Dealer de Temps seduced me. In a diversification strategy and with a small budget, I recommend that you try it.
The plateform does not have an English version. And it will not be easy to use for an english user.
Advantages
Low prices
Few premium website
Responsive and friendly customer service
Cons
Limited choices
Frequently unanswered requests
The websites are not necessarily submitted by the owner
7. My backlink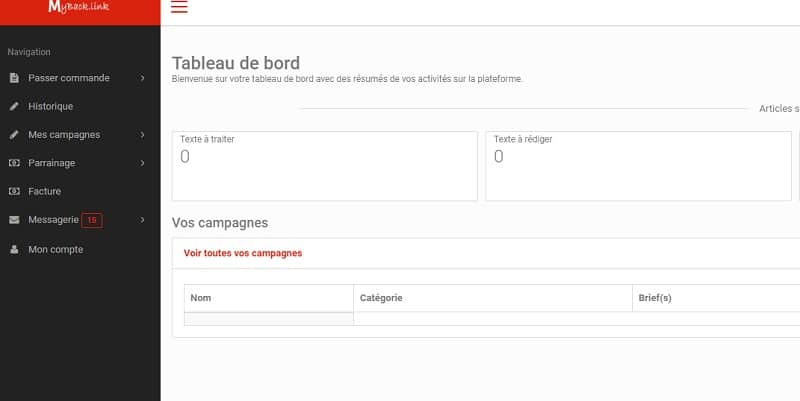 Big difference with all the sites mentioned before: Myback.link is based on a proprietary network. This means that all websites offered by the platform belong to the founder.
This has some advantages, especially on the certainty that the link will stay in a long term. But there are also some major disadvantages.In terms of traceability, a few clicks are enough to know the entire network of sites (the list is not hidden on the platform), and networks penalized entirely by Google, it happens.
Then who says proprietary network, says restricted choice of websites.
myback.link has strong assets, in addition to the seriousness and friendliness of its founder.
Technically, some practical options are within a few clicks, such as orders via Excel or article planning.
The prices are in the low range of the market and you have a great freedom for the choice of anchors, or even to make two backlinks in the same article.
A discount system exists if you order more than 5 links in a month or if you provide the content.
However, the most part of the websites have few articles and do not rank well on Google. Personally, I always prefer to have links on blogs that succeed to rank well on a few Google searches.
The themes of the sites are very basic (free WordPress themes) and clearly indicate that you are on a network of websites privileging quantity over quality.
As the founder honestly says, buying backlinks on his platform is useful for some strategies of netlinking (basically, to make links to other links rather than to your main site) or for non-competitive topics.
Finally, as he has launched a very big editorial project (white.page), myback.link seems a bit outdated with very few sites added to the catalog.
The plateform does not have an English version.
Advantages
Low prices
Useful futures
Bulk discounts
You can add two backlinks per article
Cons
Network of proprietary sites
Few new websites added to the catalogue lately
Websites wich don't rank well on Google
8. Seedingup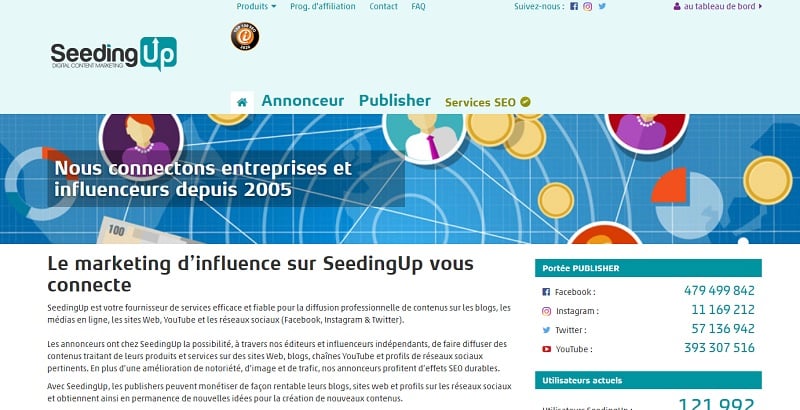 When I started SEO, many webmasters still advised to buy links via Seedingup. But now I find the service obsolete.
It has some advantages, including being international. If you want foreign links (german, spanish…), it's an interesting alternative.
But for French backlink, the catalog is thin, the dashboard is impractical, the offer which is meant to be wide (article, video article, product test, video, social networks) is more complicated than necessary.In short, it's a platform I don't use.
The plateform has an English version.
Advantages
Possibility to buy backlinks in different languages
Cons
Limited choices available
Old-fashioned (not in the good way…) interface
Complicated offer to be sorted
9. Wewant.link
I have two "10" numbers in this ranking and they both concern services that I tried, but they are too recent to really judge them.Wewant.link is a network of proprietary sites that was created in 2020. So it has similar advantages and disadvantages to Myback.link.
The prices remain lowand there are some nice websites. The ordering process is fast and on my unique order, I was delivered quickly and well.So this is a netlinking platform that I will try again in the coming months.
The plateform does not have an English version.
9bis. Boosterlink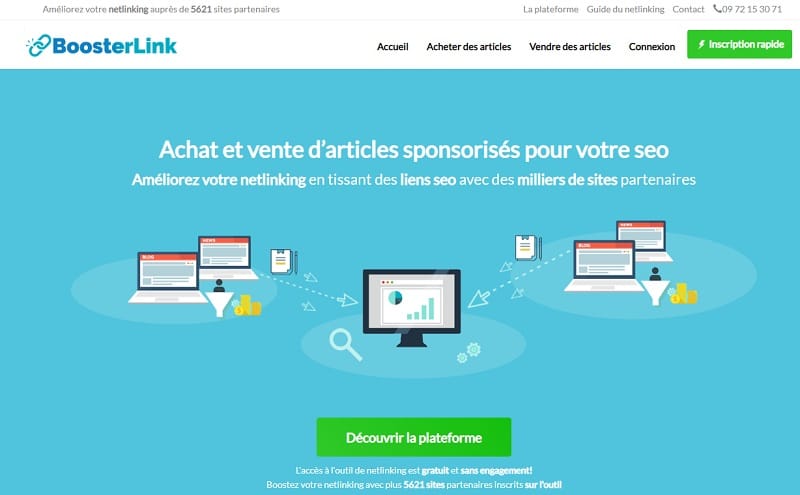 Boosterlink has not communicated a lot about its launch and I've heard nothing about it. Without an email approach, I never would have even found it.
The offer is for the moment low with a limited catalogue. There are some websites that you can already see everywhere on the other french platforms and many publishers hide the visibility of their URLs.
There is the possibility to buy a written article or to send your own article to save money and above all, control the content.
At the moment, the whole thing is young and not at the same level of big players already well established, but I like the project management and the features. So I'm waiting for the next step to judge, get excited or become grumpy!
The plateform does not have an English version.
Former number one… Next Level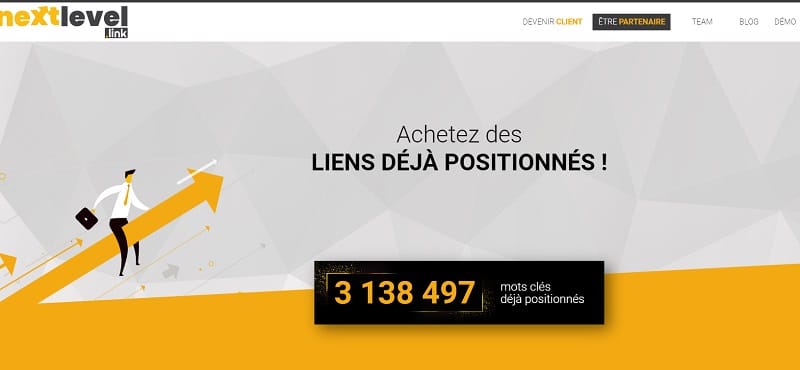 I'm making a very important quick edit: NextLevel is experiencing major financial problems and hasn't been paying its partner publishers for several months.
I therefore advise you to avoid the platform until this has been resolved positively, as the publications you buy that are never paid to advertisers risk having their links blown up…
Next Level is young on the netlinking market compared to other companies in this article. The idea is no longer to publish a new article on a website, but to add its link in a content that already ranks on Google.
This may be really very effective. Let's imagine that you are a real estate agent in Nantes and that you can add your link on article who ranks on the 3rd position on "agent immo nantes". Life would be beautiful, wouldn't it?
The platform is very simple to use and you quickly feel that the person behind its creation is himself a big link buyer.
A lot of interesting features are proposed in addition to the usual filters: alert system for new spots available on desired keywords, possible pre-orders to notify publishers of your needs, favorites…
In the first version of this article, I had put Next Level in 4th position, but in front of the improvements and the quality of the last ordered links, I can only put it in first place.
The prices are very varied with prices starting around 70€ and going up to 500€ approximately.
As the price is decided only on positioning criteria and you don't see the domain name before ordering, the result can be confusing. I was disappointed on small links at a few dozen euros published on websites without any authority.
Then I decided to invest in more expensive links. And from 100€, and more surely beyond 150€, I can assure you that you will often get a backlink on very very qualitative websites!
It is therefore important to quickly understand how to use the filters in the best way. You can either ask to the customer service (which can also do a more complete SEO follow-up if you have the budget), or define your own criteria.
For my part, I look for URLs with a minimum index of 40 (a metric made by Next Level), which rank on at least 20 keywords (ideally several in the top 10). My current favorite feature is the domain search. You enter your domain name, choose your filter criteria, and the tool pulls up all the possible links to articles ranking on your current keywords.
This is ideal to boost your positioning on a specific keyword. In terms of semantic relevance of the link, can we do better?
For those who do not like to add a link in an old content, your link is accompanied by a new paragraph of 200 words minimum. This content update, if it remains in the same topic as the rest of the article, is always well seen by Google, so your link is valued. For an additional fee, you can order up to 700 additional words and add a second external link
.As a link buyer, my fear is that my link will disappear. Platforms like Dealerdetemps or Ereferer check for your link when you publish, but nothing after. Next Level goes much further. All links are crawled regularly. If the publisher hides or deletes your link (even 1 year later), he can't withdraw his money or turn it into credit.
Please note that Next Level has now a catalog of keywords in English. It is still limited for the moment, but if it takes as well as the French one, it promises great opportunities.Moreover, I advise you to keep an eye on the platform because it is the one that innovates the most in terms of features.
I regularly discover features that make life easier for publishers and advertisers.In conclusion, if you are looking to rank on keywords that are essential for your business and/or you want powerful and semantic links, you should definitely give it a try.
As said above, I recommend you to forget the low prices and to go on links above 100€ to be conquered.
The plateform does have an English version.
Advantages
Links on pages that already rank on Google
Large choice of keywords
Top features and constant creation
Links that stay in the content permanently
Many filters available
Can you find more relevant links than this?
Cons
Standard metrics ignored
Some disappointments on cheap links
Cheap services of french backlinks: Accesslink, Linksgarden
In addition to all the above mentioned sites, I also tested Accesslink and Linksgarden.
Accesslink sells discount links at 10€ per article. For this price, don't expect a great blog. But, the delivery is fast and some websites have attractive metrics (Trust Flow, number of referring domains…). If your goal is to increase the metrics of your own website, the quality/price ratio is great. Moreover, it can be used to vary your link anchors at a low price.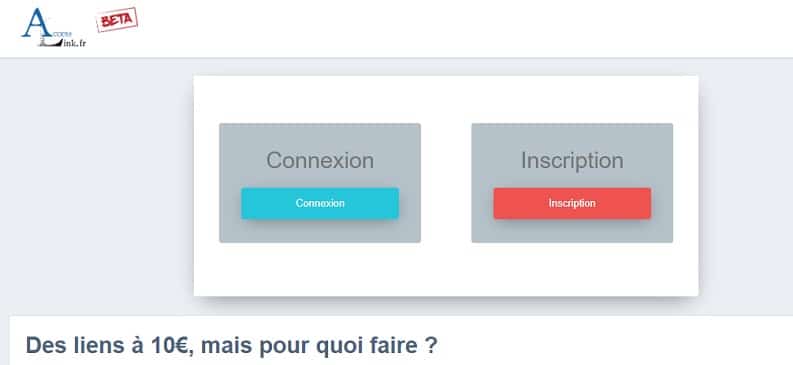 It can be interesting, but cannot be your only way to acquire external links. Moreover, you have no control over the website on which your link is published, and they often have a rough design (but, for 10 bucks, you can't expect the New York Times!).
For more qualitative links, the site fonder offers better backlinks with his "1ereplace" agency. This is not a platform, but rather a backlinks broker and I was always satisfied with his work.
Linksgarden is also a newcomer and like Accesslink, it is a network of proprietary websites with a wide offer of small prices (prices range from 10 to 50€). You have access to a part of the URLs on the dashboard and can view (and filter) some statistics before choosing the websites.
The most expensive spots have very interesting metrics, but on all the tested sites, there is a huge lack for me: the websites don't rank on Google. So I'll use it as Accesslink to boost my own stats, vary my link profile…
Untested services
Already more than 3200 words, 13 platforms and you're still with me? Congratulations, you're a real top player!Well, you should know that I haven't listed everything. Selling links being remunerative, many have launched into the adventure.
The biggest missing website on that list is probably netlinking.fr. This network of proprietary sites is great, according to the feedback I have had. As I haven't tested it (just an account created on it, but no order), I wouldn't write an opinion.
There is Vipseo which wishes to have a catalogue with websites that you don't see on every platform.
Develink is positioning itself more as Getfluence with quality media with websites owned by third party publishers.
I can also write about Synapsis.link which sells on a network of proprietary sites supposed to be without footprint. According to the promise made by the website, the power of the backlinks is tested beforehand. Again, since I never tried it, I don't judge.
And I conclude with a last network of proprietary sites that owns a very nice domain name: backlinks.fr. Just over 1000 sites are available.