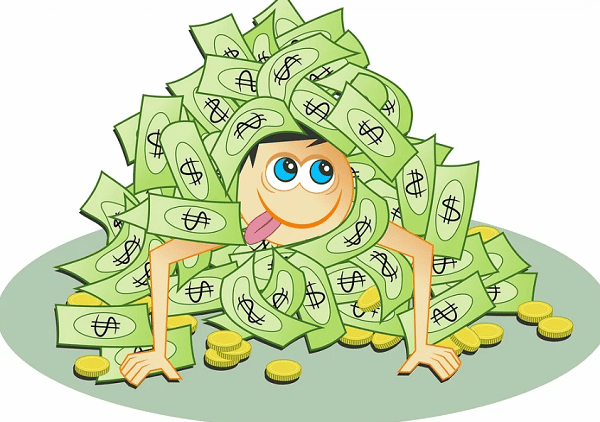 You have launched your blog or would like to do so soon and are wondering how to make money with it?

I have listed for you 13 proven and effective methods to make money with your blog.

But before I give you the list, I make a little reminder that it is necessary.
Earning money with your blog is possible if your blog is successful!
Today, too many people approach blogging in reverse. They have no passion for blogging and want to make money. They focus on the purpose and forget the essential.

No matter what methods you choose to make money, you must have visitors!

With 100 visitors per month, you will earn maybe $0.50 with display ads and will have very few opportunities to sell a training or to interest an advertiser for a sponsored article.
So, yes, I greatly encourage you to use the following list to diversify and increase your blog revenues.

But before thinking about money, the first step is always to create a blog that attracts visitors.

There, the reminder is said. Let's move on to the priority of the day: finding effective ways to make money with your blog.
Signing up for affiliate programs
This is the preferred method for niche websites, but all blogs can earn revenue from affiliate programs.

The principle is simple: you make a link to another website and when your visitor clicks on the link and orders the product or service, you earn a commission.
Commissions vary significantly depending on the program. Currently, Amazon's affiliate program is the most popular and you earn about 5% of sales (the percentage depends a bit on the product categories and your country).

But, you have plenty of other programs. I have an affiliate program that pays me 20% of the sales.

You can find affiliate programs directly by going to the websites of your theme or by going to platforms that offer different programs.
Publish sponsored links
If you know SEO, you know that the 3 pillars of SEO are a technically clean website, quality content and a popular website.

Popularity is expressed in particular by the number of links the website receives from other websites.

Therefore, many SEOs want to acquire links to improve the SEO of their website. One of their preferred methods is to buy links from other websites. Your blog can become their media!

The price depends on the type of link (link in a new article, an existing article, on your homepage...) and your website. The more popular your website is and the more visitors it attracts, the more the price increases.

Media like BFMTV (big french media) sell links for around $3500!
Of course, your prices will not be at this low level. 99% of the websites display publication prices between 50 and $200 per article.

If you have no idea what price to set, the best thing to do is to register on link selling platforms, enter the URL of your website in their tools and see what price they offer based on the stats of your website.
If you need, here are some information about buying french backlinks.
WARNING
---
In its guidelines, Google states that it prohibits the sale of links. This means that if it notices that you are selling links, the search engine may penalize you by deindexing or downgrading your pages.

If you sell a few links, the chances of getting caught are small, but they do exist. If you sell one per article, the risks increase.

I advise you to avoid specifying on an article that it is sponsored or even to sell sponsored articles on all your websites (e.g.: Why would you do it on an e-commerce website that works very well?).
Add display (advertising banners)
For a long time, the display ads were the only way to make money for bloggers. This word describes the banner ads that you can see blooming on most websites (and block with an extension like Adblock).

To display banner ads you need to register with an ad network.

The most used one is Google's (Google Adsense), but you have others like Criteo, Ezoic...

Then, you have to put the codes (scripts) given by the network on your website to trigger the display of the ads.
The revenue generated will obviously depend on your traffic since you are paid either by the number of impressions (number of times the ad is seen by a visitor) or by the number of clicks.

It is important to know that some topics pay better than others.

If you have a great blog about insurance, advertisers are able to pay a lot to display their ads.On the other hand, if you make buzz articles about reality TV stars, your RPM (revenue per thousand impressions - a statistic often used to study the profitability of banners placed on a website) will be very low.
Sell your mailing list
An e-mail address is nowadays a highly sought-after resource. It allows you to contact Internet users and convince them to buy.

This is why many websites offer to subscribe to their newsletter. Many techniques exist to encourage them to do so, such as the famous "Free Ebook" by entering your email address.
Your mailing list (list of email addresses and other contact information) can be sold.
BUT, don't forget the law. Even if it is too often ignored, including by those who make it (ex: I receive a terrible amount of spam from a french political party), it exists. You do not have the right to collect and sell an email address unless the user has consented to it.
In addition to breaking the law, selling your subscribers' email without their consent exposes you to the loss of their trust if they find out.
Promote in your newsletter
If you manage to get a large number of subscribers to your newsletter, you can use it as an advertising medium.

Many big blogs include one or more advertisements on their newsletters. The advertiser pays to have its logo, brand name or other advertising message displayed.

The price depends on your number of subscribers, the average email opening rate, the subject matter of your niche...
Create a premium section
This technique can be very effective, but only succeeds with a loyal reader base and high quality content.

Like the Press websites, make some of your content public and some accessible via a subscription or pay-per-article system.

The process only works if your free content shows that you are capable of delivering high quality and that you are in a market sector where your expertise stands out from the free competition. If the person who pays is disappointed with the content, he or she will never pay again.

This solutions also creates problems for SEO because the robots used by Google will not have access to the paid part and will not add this great content in its index.
Selling leads
Let's imagine that you have a website on SEO with a "Request a quote" page. You collect 10 requests for quotes every month, but you have neither the time nor the desire to do these jobs.
Each request includes the name of the person, the contact details and an explanation of their needs. It constitutes a lead.
This lead can be sold to a peer or to companies that are experts in buying and reselling leads to professionals.
The most frequent leads are in the field of crafts. Fields such as plumbing or locksmithing are among the toughest markets on the web (because they meet an urgent need that can be very expensive).

Depending on the niche of your blog, selling leads can become a great way to get paid.
Sell its own services
If you have a blog about travel, your opportunities to sell a service are reduced. But, maybe you can offer a tailor-made travel service like agencies do.

In other topics, the sale of services follows almost naturally.

You create a great blog in your market with great articles, videos that prove your expertise and offer to help people.

This plan is adored by SEO agencies. When I worked at Seomix, a frenc SEO agency, many of our clients arrived thanks to the agency's blog and the conferences given by the founder.
Selling physical products
In addition to or instead of services, sell physical products. The choice of products obviously varies according to the content of your blog.
Here are some possible examples:
You have a blog on dog training and buy/sell products that promote training
You have a beauty blog and sell your own cosmetics as a white label
You have a humorous blog and sell t-shirts with funny slogans via dropshipping.
Three different contents and three different sales methods!
Explanation of the 3 sales methods
Purchase / resale is the best known system. You buy products, if possible in bulk to get a low price, from a supplier and resell them without transformation on your online shop.
In white label, the principle is the same, but you personalize the products with your brand name, your colors... The personalization can be done by yourself or directly at your supplier.
In dropshipping, you receive your visitor's order and send it to a supplier who then dispatches the product himself. The system is widely promoted on marketing blogs, but the quality is not always there, especially when the technique consists in sending a poor quality product from China when the customer was expecting a shipment from your country!
Selling a course
Training is a growth sector. In the United States, online training represents a market worth several billion dollars a year.

Unlike products and services, training has the advantage of being a real passive income. You create your lessons and no matter how many people register, your efforts are finished.

Training courses can sometimes last and be sold for several years.

If the web domains were the pioneers of online courses (courses to learn how to develop, SEO...), all businesses are eligible.
Lately, I have seen training courses for jobs not related to the web, but also to learn how to flirt, educate your children or even online training to learn how to create online training courses (backlinko.com had one recently)!

The prices depend on your popularity, the market, the quality of the courses... However, the first prices for a real course start around $300 and quickly reach 4 figures.
In addition to this "one shot" formula (one payment, one course), it is possible to create a format close to the school with a monthly subscription and several courses per month or week.
Request a donation
It is a method of monetization that we often see on French blogs, but which is not effective.

On a part of your blog, you add a "donate" button via Paypal and the visitors who want can send you money.

In all honesty, on a standard blog with articles and little personalization, donations are very rare.

But, I've seen good results in various areas such as :
A podcaster/journalist asking for donations to continue his good work
A developer who offers a free WordPress extension and receives donations from people who appreciate his tool
An erotic blogger who receives donations in money (and lingerie) from people who watch her photos and videos.
Increase all your earnings by exporting yourself on social networks!
The blog is a great medium, but the world and the internet are changing! Today, especially among younger people, Google searches are being replaced by social networks and videos.

Go to these other media to diversify your earnings.

In addition to your blog, create a Youtube channel and/or profiles on social networks. They will become ways to earn money using the same processes: selling advertising space, product presentation...
Sell your blog
Radical, but effective! Create a blog that works well and sell it like any other business.
The price again depends on a lot of things. Some buyers will focus on the income you earn (example: a buying price equal to 12 months of profits), but in reality it is more complex.

Your monthly traffic, the number of backlinks received by your website (remember the explanation of the popularity of a website in the "Publish sponsored links" section), the development potential, the niche, the competition... All these elements have an impact on the selling price!
By typing "sell my website" in Google, you will find several platforms offering the purchase/sale of websites and blogs. By consulting them, you will be able to get an idea of the value of yours.

Personally, I've always used Flippa.com, which is a reference in the field.
All 13 of these techniques work. What's the proof? They are used and reused by bloggers. Think about the ones that seem consistent with your website and your desires.

Then test them! Sometimes, a method you thought would pay off turns out to be a waste of time, and another does the contrary.
Passionate about web, SEO, entrepreneurship and organization, I share with you on this blog advice and thoughts.
DENIS REPERANT
Website editor